Rangoli is an Indian art form that consists of colorful mandala-like patterns created on the floor using materials such as colored rice, sand, quartz powder, or flower petals.
The photo above features a lovely example of a combination of Rangoli and Origami designed by Shachi Jain. What an inspiration to imagine what origami pieces we could use to create a Rangoli.
Rangoli is considered auspicious because it is said to attract wealth, happiness, prosperity, and positive energy.
Rangoli is usually made during Diwali, which is a festival of lights and one of the major festivals celebrated by Hindus, Jains, and Sikhs usually in October or November each year, depending on the cycle of the moon. It's observed on the 15th day of Kartik, the holiest month in the Hindu lunar calendar.
Shachi used the following origami figures to create her Rangoli:
Abstract flower and Bael leaf designed by Meenakshi Mukerji. In India, Bael leaf is used in the worship of Shiva as its three-pronged leaf is believed to symbolize Shiva's trident. The three-pronged leaf is also associated with the three functions of creation, preservation, and destruction.
Traditional octagon with a small variation
Traditional kite base and diamond bases with some variations.
Below you will find origami model suggestions to use for a Rangoli. You are invited to take inspiration and use your imagination to create your own Rangoli.
Share your origami fold with us in our Facebook Group
Click here for the video tutorial of this flower created by Hans-Werner Guth
---
Click here for the video tutorial of windmill variations (Traditional)
---
Kite base
Click here for the video tutorial of this Origami Flower (Six Petals) Designed by David Martínez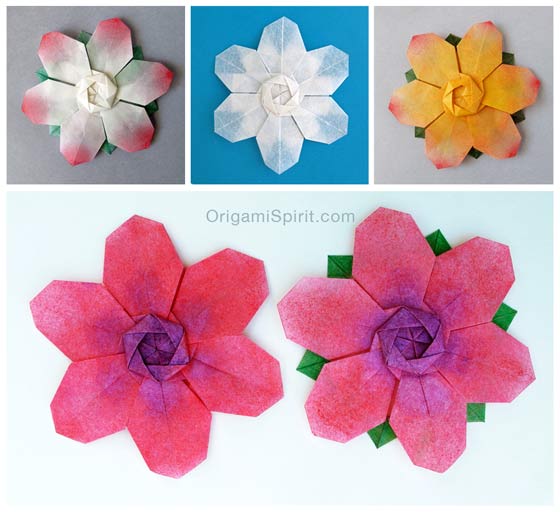 Share your origami fold with us in our Facebook Group